Making Vegetarian Phở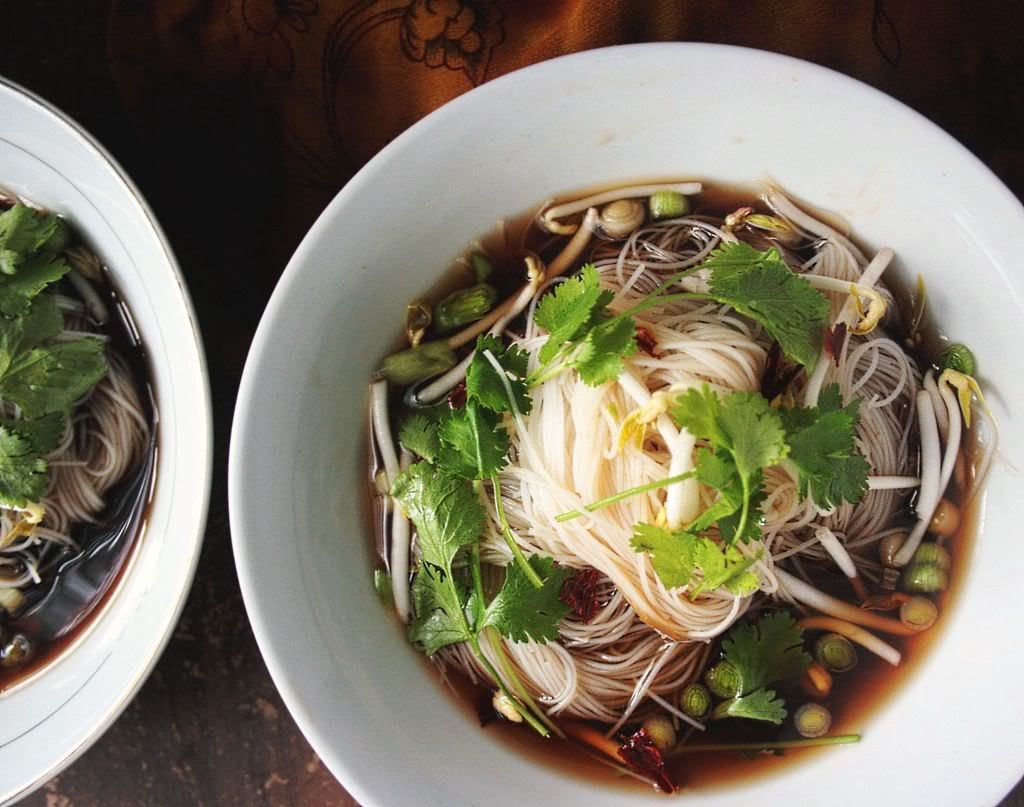 I didn't have basil leaves (crucial when it comes to Phở) so I had to substitute it with a bunch of coriander, which I find rather repulsive. I have this theory that coriander tastes like bug juice - you know when you squash a bug and the liquid comes out? Yeah, I'm pretty sure it'd taste like coriander. Anyways, a bowl of traditional Vietnamese Phở uses simmering beef bones, oxtails (I had to restrain myself from dropping one or two into this broth) and flank steak simmered with spices to make the broth, but this vegetarian/vegan version for Adrianaleigh's foodwish uses dried shiitake mushrooms as an alternative and it didn't disappoint.
Finally, on a more irrelevant note, I hope you guys will enjoy the new blog layout. This is the second time I've changed it (and again had to remove the globe-tracker, to my despair. I like looking at the little red dots) and hopefully will be sticking with this one for a while.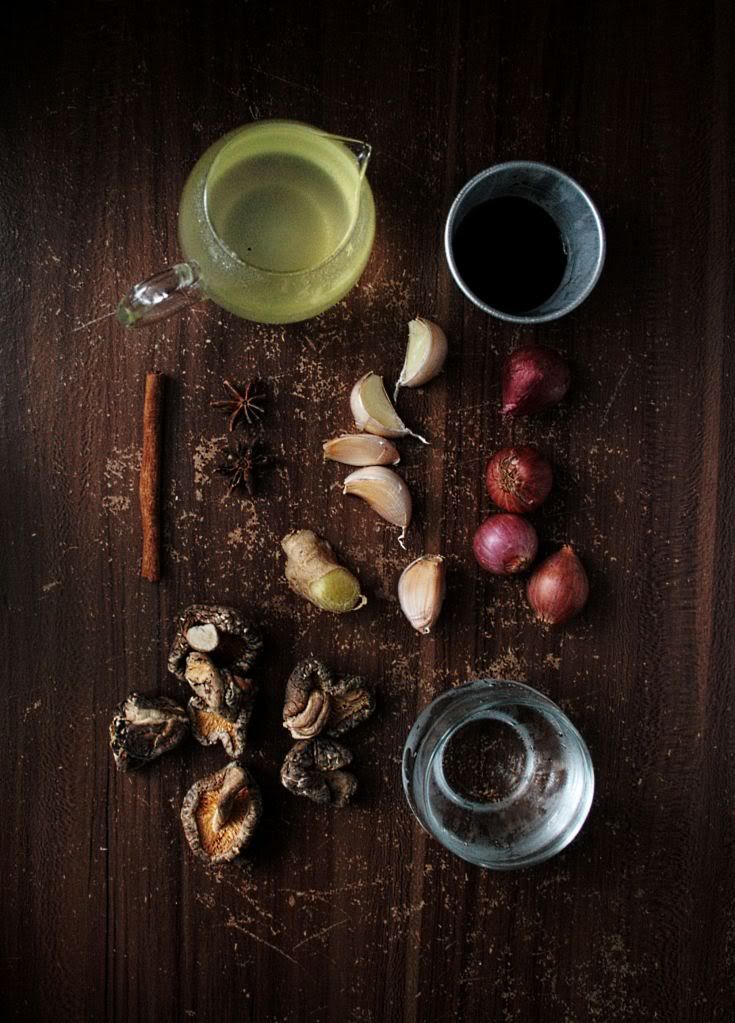 PHO BROTH (original recipe by Running With Tweezers):

[ 2 cups good quality low sodium vegetable broth + 2 cups water + 1/2 cup dried shiitake mushrooms + 3-4 shallots, thinly sliced + 5 cloves of garlic, peeled and thinly sliced + 2cm piece of fresh ginger, thinly sliced  + 3 tablespoon light soy sauce + 2 star anise + 1 cinnamon stick ]
Place the ingredients in a large soup pot with a lid.
Bring to a boil over medium high heat and then reduce temperature and simmer mostly covered for half an hour.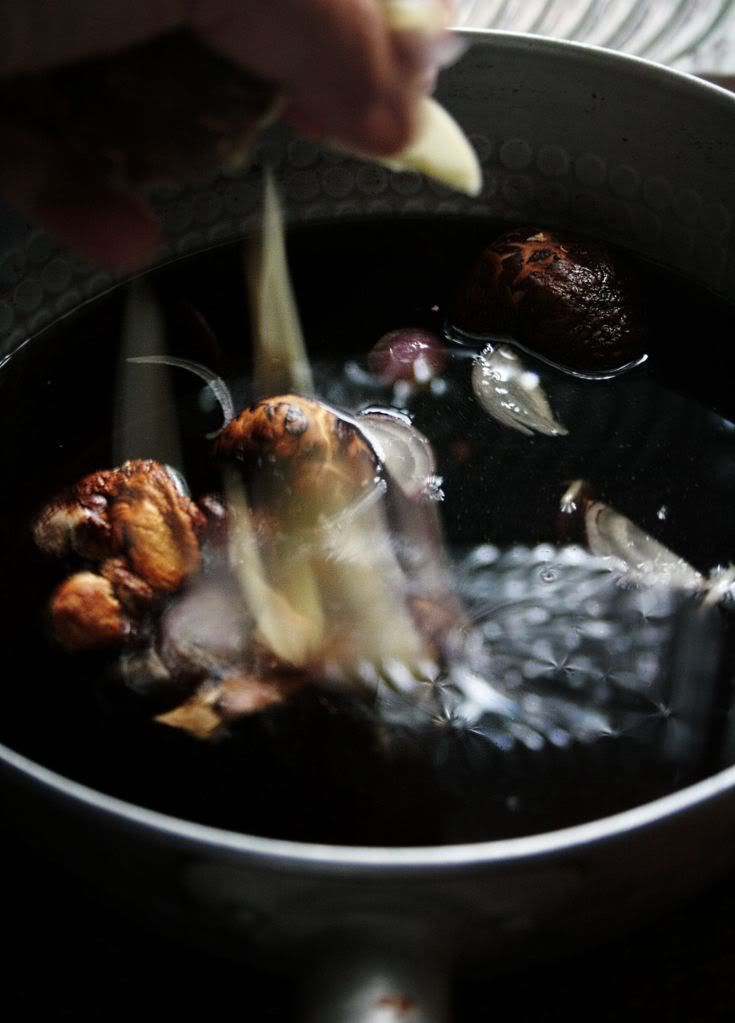 Strain through a fine mesh colander to get all the bits out.
***Cook's Note (optional step): pick out the shiitake mushrooms and slice thinly. Set aside
Return the broth to the pot and bring back to temp over medium heat.
ACCOMPANIMENTS:
[ 4 ounces dried rice noodles + 1 cups fresh mung bean or soybean sprouts + 1/4 cup fresh chopped green onions + 1/4 cup roughly chopped cilantro + 1 lime, cut into wedges for garnish ] OPTIONAL: red chilli flakes + fried tofu balls.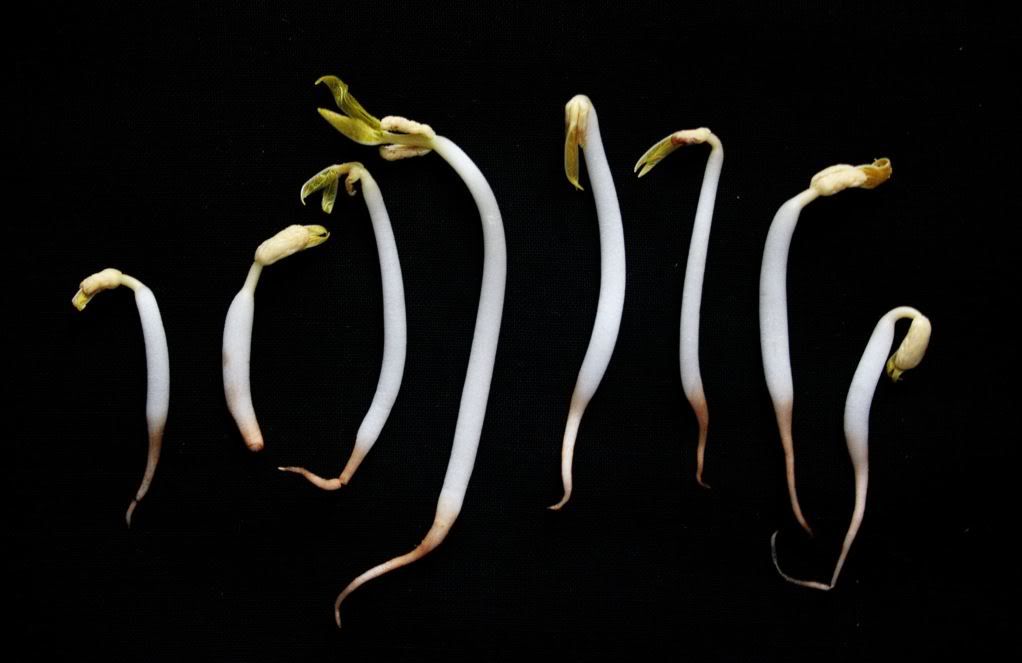 Cook the rice noodles according to the package (cook the noodles in boiling water for 3-4 minutes until tender, drain and rinse with some cool water quickly to stop the cooking)
Drain these thoroughly.
** To assemble the soup:
Evenly distribute the noodles and mushroom between the serving bowls.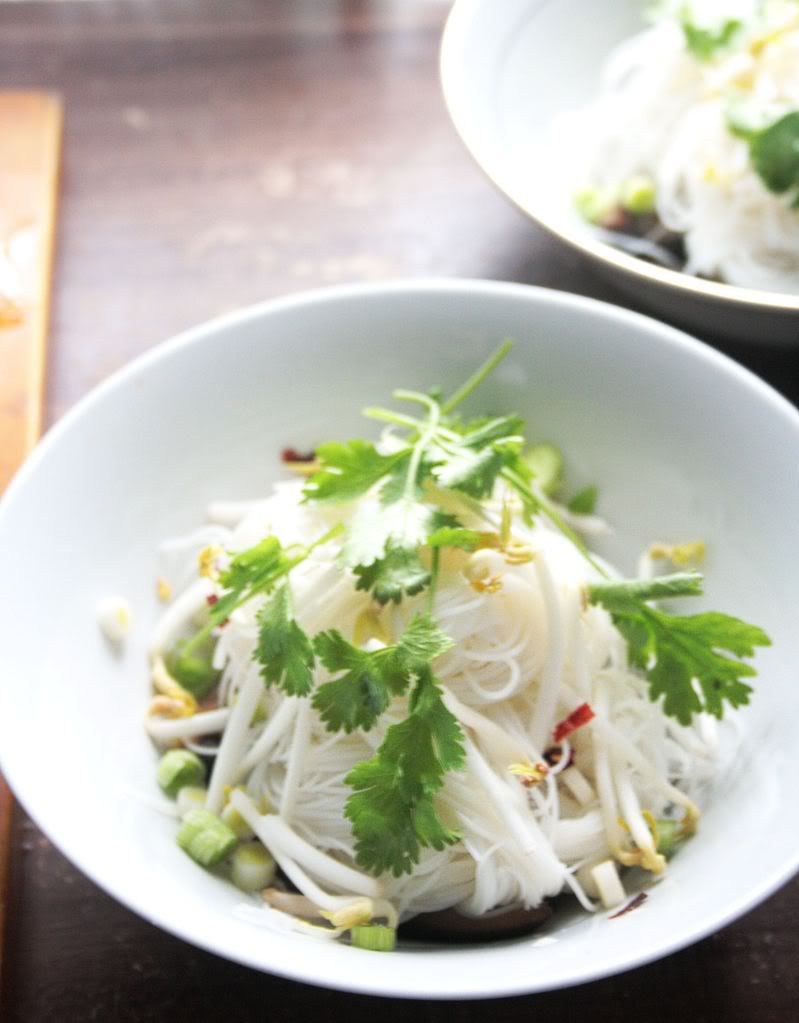 Ladle the hot broth over the noodles.
Top each bowl with some sprouts, basil or cilantro, a sprinkle of green onions and some lime. Serve immediately.
If you look closely, you can see yours truly juggling a ladle in one hand and the camera in the other.
Enjoy!
blog comments powered by

Disqus